Beach Club Hallandale Floor Plans
About the Beach Club Hallandale
Beach Club Hallandale is a private community in the City of Hallandal
e along the intercoastal Waterway. Beach Club Hallandale consists of three high rising condominiums with amazing waterfront views. Beach Club Hallandale conveniently located, includes countless boutiques in the surrounding area, Bal Harbour Shops. Bal Harbour Shops offers the best in Luxury shopping with such stores as Neiman Marcus, Saks Fifth Avenue, Boutiques such as Channel, Ferragamo, Tiffany's, Cartier, and many, many more.
The Beach Club condos is a set of three luxury condominiums overlooking the Atlantic Ocean and the pristine beaches of Florida. These condos are one of the best choices for the discerning owner, seeking opulent accommodations and one of the best location in the state of Florida. Hallandale Beach is an incredible area, with numerous resorts and some of the best dining and shopping on the coast, as well as access to the warm waters and sunny shores for which Florida is justly famous.
Beach Club Hallandale real estate includes beach front condo residences with water views. Beach Club Hallandale condominiums offer a world of elegance, privacy and international sophistication in one of South Florida's most dazzling settings. Beach Club Hallandale condos features gracious condo residences in high-rise towers with breathtaking views in all directions. Beach Club Hallandale was established to provide an exclusive, private lifestyle for individuals who are accustomed to life's finer things. This signature South Florida community was designed to offer all the amenities one could want in an idyllic setting.
Beach Club Hallandale premier residential community is located in Hallandale between Miami and Fort Lauderdale on the Hallandale Beach, just a short drive from the vibrant nightlife of South Beach and Coconut Grove. The attractions of Hollywood and Fort Lauderdale are also less than a half hour away from Beach Club Hallandale.
Bea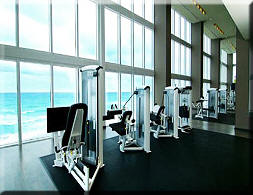 ch Club Hallandale condos development, boasts a sophisticated design that has justly earned its description as the "Florida Riviera." This premiere development has enjoyed booming sales throughout the years during both thriving and down markets. Sales to Latin Americans and Europeans have contributed significantly to the development's continuing success. Beach Club Hallandale's amenities include the Tennis Club with all-weather and clay courts.

Each condominium tower at Beach Club Hallandale provides its residents with amenities such as a pool, Jacuzzi spa, gardens, fountains, valet and concierge services and 24-hour security, to name a few.
Within the prestigious city of Hallandale is the magnificent community of Beach Club Hallandale, comprised of 3 grand condominiums overlooking the gleaming Hallandale Beach. Acting as a complement of sorts to the existing single family homes and gated communities in the area, this community is great for people who want to have the luxury of living on the beach while remaining within one of the most colorfully varied neighborhoods in Miami-Dade County. Since its completion, Beach Club Hallandale has offered amazing residences with a range of prices for those who seek true optimum living options. Enjoy five star features and amenities in the comfort of your posh waterfront condo. Swimming pools sparkling with the sizzling and radiantly inimitable South Florida sunshine, fitness centers with all the latest equipment designed to get you ready to head out to the superb beaches in Miami Beach, Fort Lauderdale and beyond.
Description of Beach Club Hallandale Tower I, II, III
The Beach Club Hallandale Tower I
Located at 1850 S Ocean Drive in Hallandale Beach, Florida.
Beach Club Tower I of the Beach Club complex was built in 2005 and was the first building to be completed of the three Beach Club Hallandale condominiums towers building. It is located on the southern most portion of the Beach Club Hallandale complex. Beach Club Tower I building has 44 stories and ten units per floor. The configuration of the Beach Club Tower I building is similar to Tower III configuration.
The Beach Club Hallandale Tower II
Located at 1830 S Ocean Drive in Hallandale Beach, Florida.
Beach Club Tower II was completed in the 3rd and 4th quarter of 2006. The impressive rectangular structure is currently the tallest building in Broward county standing 52 stories tall. Each floor is comprised of 12 different units ranging from one bedroom, two bedroom, and two bedroom plus den or three bedroom units.
The Beach Club Hallandale Tower III
Located at 1800 S Ocean Drive in Hallandale Beach, Florida.
Beach Club Tower Three is the last complex part of the three-tower complex situated on nine acres of oceanfront property in Hallandale Beach. This tower is somewhat similar to Beach Club Tower One. Beach Club Tower Three has 44 floors, consisting of ten spacious units per floor.
Living at the Beach Club Hallandale
What makes living in Beach Club Hallandale twice as appealing is having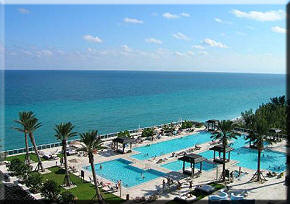 a popular resort destination with over a mile of unspoiled ocean beaches, world class golf course, less than an hour from everywhere you want to be in South Florida. Hallandale Beach is conveniently located between Miami and Ft. Lauderdale, next to Aventura with access to the Fort-Lauderdale/Hollywood and Miami airports, Port Everglades, Port of Miami, and I-95.

Two of South Florida's racetracks are located in Hallandale Beach. Gulfstream Park, home of the world-class thoroughbred horse racing, and the Hollywood Greyhound Track, which features exciting dog racing action six months a year. Hallandale Beach offers a wide choice of sporting activities year round including tennis, golf, swimming, boating and salt water fishing. Evenings offer a choice of fine or casual dining and nightclub entertainment. Shopping is as easy as walking out your door in Hallandale Beach. Merchandise of every kind can be found in shopping centers, individual boutiques and malls, conveniently located throughout the city.

Hallandale Beach is often referred to as the Wall Street of the south. The area east of Hallandale Beach Boulevard has more financial institutions in one mile than any other street within Broward County.