The Bond on Brickell Condo Information
Bond on Brickell is a residential high-rise complex in the Brickell district of Miami, Florida. The project will consist of a high-rise residential tower and will be located on South Miami Avenue. The Bond at Brickell will have an estimated 44 floors, 323 total residences and its entrance on South Miami Avenue.
Units facing Brickell Ave. start on the 14th floor, units facing South Miami Avenue start on the 3rd floor facing Mary Brickell Village. These will be two story lofts, all one beds 728 sqft. and 1129 sqft. Floors 2-12 will be for parking garage and the 13th floor will feature the condo amenities.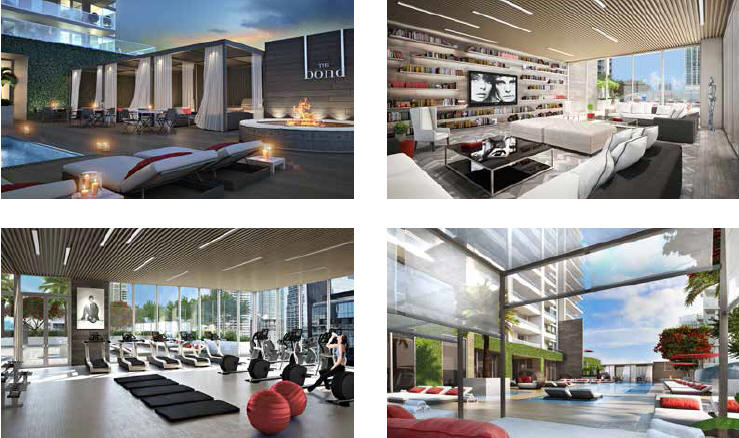 Bond on Brickell - Description
The Bond at Brickell is the first new condominium to be developed on Brickell Avenue since Miami's last real estate cycle. The 44-story luxury tower will be home to 323 residences that will attract residents from throughout the Americas and around the world. Inspired by the best of classic British elegance and appointed with modern day amenities, The Bond introduces a new standard of luxury living to the Brickell Financial District.
Bond on Brickell - Residential Amenities
• Resort pool facilities including a canopied jacuzzi
• Super Cabanas with private living rooms and outdoor kitchens
• Outdoor Fire pit
• Library with screening room
• Kid's Club and learning center
• Executive Business Center
• State-of-the-art Fitness Center
• Men's and Women's Spa facilities with steam room and sauna
• Club Room with billiards table and bar
• Private Owner's Lounge with daily refreshments
Bond on Brickell - Location
Located at 1080 Brickell Avenue in the heart of one of Miami's most pedestrian-friendly neighborhoods, The Bond is situated in the heart of downtown Miami's Brickell Financial District. Residents and visitors will access The Bond via entrances on Brickell Avenue and South Miami Avenue. Public transportation is just steps away and world-class shopping, dining, entertainment and cultural destinations such as the Shops at Mary Brickell Village, American Airlines Area and the Adrienne Arsht Center for the Performing Arts are within reach.
Centrally located on the famous Brickell Avenue, The Bond on Brickell is within walking distance to major international banks and minutes from Class A office buildings, including Rilea's award-winning 1450 Brickell. Just steps away is the bustling Mary Brickell Village - home to a variety of retailers such as Publix, Sports Club L.A., a signature sports and wellness center, chic shopping and world-class restaurants and bars. Even more exciting is the upcoming access to nearly 600,000 square feet of luxury retail and shopping at Brickell CityCentre, which is currently under construction. Brickell offers an exceptional array of neighborhood amenities from weekly organic farmer's markets and art shows, to music concerts and sporting events.
Both visitors and residents alike can enjoy a perfect Miami afternoon in the recently opened Flat Iron Park, designed by renowned landscape architect Raymond Jungles and located directly across The Bond. Residents of The Bond will have direct access both from Brickell Avenue and South Miami Avenue - "The New Lincoln Road." Getting around the area is easy with the variety of transit options, including the free Miami Trolley, free Metro Mover as well as the Metrorail, all located within two blocks from The Bond. Surround yourself in excellent company, and place your VIP guests at some of Miami's most exclusive hotels, including The Four Seasons, The Conrad and The Mandarin Oriental.

Bond on Brickell - Residences
The Bond is comprised of 44 floors and 323 luxury residences ranging from studios, 1-, 2-, and 3-bedroom units, to exclusive lofts and penthouses. 595 parking spaces and approximately 5,000 square feet of retail space on the 2nd floor
Bond on Brickell Timeline
Construction will get underway in Summer 2013 with completion slated for summer 2015. Pre-construction prices start in the $200's to over $1 million.
Bond on Brickell Deposit Structure
- 10% now
- 10% August/September (contract)
- 20% November/December
- 10% end of 2014
disclaimer - IMPORTANT NOTICE - Information contained in this web site is believed to be accurate BUT NOT GUARANTEED Oral representations cannot be relied upon as correctly stating representations of the developer. For the correct representations, make reference to the purchase agreement and to the documents required by 718.503, Florida Statutes, to be furnished by a developer to a buyer or lessee. The sketches, renderings, floor plans, graphic materials, feature plans, condos for sale, and specifications described herein are proposed only, and the Developer reserves the right to modify, revise, or withdraw any or all of the same in its sole description and without prior notice. Without limiting the generality of the foregoing, Developer reserves the right to substitute any of the foregoing with items of similar or better value, in Developer's opinion. Oral representations cannot be relied upon as correctly starting the representations of the Developer. For correct representations, make reference to the documents required by Section 713.503, Florida Statutes, to be furnished by the Developer to a buyer or lessee.
Location for Bond on Brickell Condo

View The Bond at Brickell Condo in a larger map