$100,000 to $299,999
See Condo Listings
$300,000 to $499,999
See Condo Listings
$500,000 to $699,999
See Condo Listings
$700,000 to $899,999
See Condo Listings
$900,000 to $999,999
See Condo Listings
$1,000,000 to $2,999,999
See Condo Listings
$3,000,000 to $4,999,999
See Condo Listings
$5,000,000 +
See Condo Listings
$1,250 to $1,650
See Rental Listings
$1,651 to $2,000
See Rental Listings
$2,001 to $2,500
See Rental Listings
$2,501 to $3,000
See Rental Listings
$3,001 to $4,000
See Rental Listings
$4,001 to $5,000
See Rental Listings
$5,001 +
See Rental Listings
Brickell Avenue Miami Condo Websites
All Brickell Avenue Miami Condos for sale or rent rise above the beautiful waters of Biscayne Bay.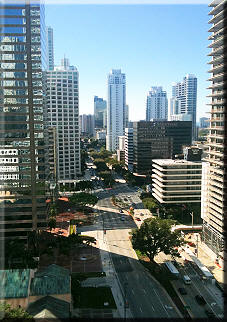 Their location is one of the most unique and identifiable skylines in the world. The luxury condos on exclusive Brickell Key and those that line Brickell Avenue Miami provide an incomparable life of luxury to their residents. It seems only fitting that they be located on the same precious strip of land that was once known as "Millionaire's Row," in honor of the grand estates that stood upon it. Though much has changed in the last 100 years, the friendly neighborhood charm of Brickell Avenue endures.
During 2001 alone, almost 1,000 new apartments and Condominium residences were erected in the Brickell Avenue Area and there are plans that will likely double or triple that number in the next several years. As the area continues to thrive, more and more people that work on Brickell Avenue area choosing to live on Brickell Avenue. Why commute when there is such and incredible quality of life just steps from the office. And perhaps the greatest luxury enjoyed by Brickell's diverse population of young professionals, empty nesters, and international businesspeople is the sense of community that is so rare in most urban settings.

Brickell Avenue Miami Condo residents are secure knowing they can jog, walk their dogs or simply take a nighttime stroll along the streets of the neighborhood they call home. Magnificent panoramic views allow those who live and work on Brickell Avenue to see virtually all that is within their reach. The glistening neon lights of eclectic South Beach, the pulsing streets of Coconut Grove and the natural beauty of Key Biscayne are all minutes away. And if you're a sports enthusiast, you'll have plenty to cheer about. The Heat plays at the Miami Arena downtown and the Dolphins and Marlins just 20 Minutes north at Pro Player Stadium. For cultural pursuits, Brickell's centrally located to the Viscaya Museum, Miami City Ballet, New World Symphony, Florida Grand Opera, Miami Art Museum, Gusman Center for the Performing Arts and Coconut Grove Playhouse.
If ever there was an ideal time to buy or rent your own Brickell Avenue Miami Condo, it is now. The selection of prime office space and prestigious luxury condos will never again be so great. And while the potential of this emerging neighborhood is not limited, the availability of preferred locations certainly is. With its well developed infrastructure, this planned community is ready to accommodate your growth as well as its own. Brickell avenue Miami condos - sale and Lease