Bulk condo sales in Miami have been become more common for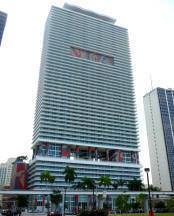 developers as investors take on the task of operating the units as low return rentals and waiting for the sales market to provide even larger returns. Many of these bulk condo buyers are not only American investors but also many foreign investors are joining to buy these condos at a discounted price. These sales have become more visible as developers, banks that took over ownership and successor lenders and bulk purchasers have made them available to investors.
While the banks found they might sell a unit or two from time to time, they are realizing they would have to manage them for a number of years. There is also pressure from Federal regulators to get rid of assets. Some builders are turning to "bulk condo sales"—a new strategy to solve the real estate marketing problem of how to move product in a sluggish market.
In bulk condo buying, sellers (i.e. developers) and their lenders sit down and determine a well below market prices they'd be willing to accept on the condition that those prices will move a lot of condo inventory quickly. Then the developer and its sales team list the condos all at once with hopes that the heavily discounted prices will move investors to make offers and sell off their remaining inventory.
Like an auction, the deep discounts—about 35-50% off are designed to motivate buying. But unlike some forms of auction, "bulk" condo sales are first-come, first-served—meaning that any buyer who qualifies can buy a condo at its advertised price, rather than participate in a bidding war where the advertised price is just an opening ask. In a typical auction, units are offered at up to 60% off their original listing prices, but are usually bid up to around 30 percent below listing price.
Lender acquires 56 units in Marina Blue
South Florida Business Journal - by Brian Bandell
A company that gave a second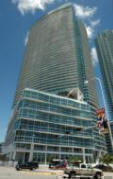 mortgage to the developer of Marina Blue acquired 56 units in the downtown Miami condominium in a transaction valued at $15.7 million and declared that its mortgage was satisfied. This is the second bulk deal at the 516-unit Marina Blue this year, and it closes out nearly all of its units. Singer Island-based Welcome Bay bought 60 units in Marina Blue in December for $13 million. However, it is unclear from court documents whether the latest bulk deal was a simple sale or a deal in which the lender released the developer from the mortgage. An official at Miami-based Hyperion Development declined to comment. West Palm Beach attorney Cynthia Spall, who handled the paperwork, did not return a call seeking comment. Miami-Dade County court records show that, on March 19, Lendco Florida, a corporation registered in Las Vegas with an address in Menlo Park, Calif., acquired the 56 units in Marina Blue for an average of $281,118 a unit. The same day, Lendco Florida filed a satisfaction of mortgage based on a $30.5 million second mortgage it made the developer in February 2008. Chicago-based Corus Bank issued a satisfaction of mortgage notice on its first mortgage to the developer of Marina Blue. Miami Beach resident Thomas Jermoluk, who was listed as a manager of Lendco in mortgage documents, also gave the developer a $5 million personal mortgage. Jermoluk and his wife acquired a unit in Marina Blue for $200,000 on March 20.
Buying in Bulk
As prices fall and sales rise, Miami real estate brokers, lawyers and developers say the overbuilt market has entered a new phase
By Terry Pristin

The New York Times Despite a vast oversupply of new condos in downtown Miami, sales have been brisk lately at 1060 Brickell Avenue, a development with 570 units in the heart of the upscale Brickell neighborhood. The reason? Prices have been cut in half, to about $200 a square foot. Prices have been cut in half, to about $200 a square foot at the 1060 Brickell Avenue condo building in Miami. NEW YORK TIMES / MAGGIE STEBER "We reset the prices at a sharp discount, and the units are flying off the shelves," said Gary Barnett, the president of the Extell Development Co., developer of 1060 Brickell. More than 200 units have closed since April. Barnett, who has developed several new condo projects in Manhattan, acknowledged that he and his backers lost their entire investment. But because more than 40 percent of the units sold at full price, Barnett was able to repay his $153 million first mortgage from TD Bank and iStar, a troubled finance company that bet heavily on the South Florida market. Since 2003, nearly 23,000 new condo units have been added to the skyline, far more than this city of 400,000 could absorb. About 9,400 remained unsold, says Peter Zalewski, the owner of Condo Vultures Realty. But Miami real estate brokers, lawyers and developers say the overbuilt market has entered a new phase. "Things are starting to move through the system," said Adam Cappel, the president of CondoReports.com. Until recently, many real estate professionals expected investment funds seeking opportunities in distressed real estate to swoop down and buy units by the hundreds and then rent them out. A few bulk condo purchases have oc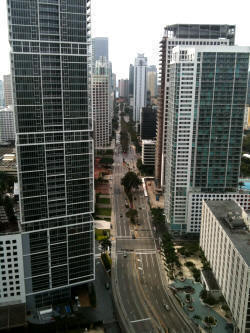 curred -- in the dozens rather than the hundreds -- but most buyers have paid market price, not wholesale. An investor from Colombia bought 31 units at 1060 Brickell for an average of $203 per square foot. Recently, a private equity group paid only $63 per square foot for 51 oceanfront condo-hotel units at the Regent Hotel in Miami Beach. Previous units there had sold for $1,100. For the most part, bulk sales have yet to catch on. With the steep decline in values, developers of newer buildings are no longer in control of their projects and must defer to their lenders. "The lenders did not want to take the hit that the bulk purchasers were offering," said Martin A. Schwartz, a partner at Miami law firm Bilzin Sumberg. Another obstacle is that under Florida law, anyone who buys seven condos in a building with 70 or more units may be assuming all the liabilities of a developer, Schwartz said.
Robert Kaplan, a principal of Olympian Capital Group, a Miami mortgage brokerage, said the focus had shifted away from bulk sales to retail sales because lenders were not willing to take $100 to $125 per square foot when they could get $175 or more. "Every condo lender is considering market-rate sales. They have no choice," he said. Bargains are being offered for under $200 per square foot at Brickell on the River South, near Southeast Fifth Street. At 500 Brickell, developed by the Related Group of Florida, prices for one-bedroom apartments have dropped to $180,000, from $260,000. If demand does not keep up, prices will have to adjust, Kaplan said. "But we're not seeing that yet," he said. According to Ronald A. Shuffield, president of brokerage Esslinger-Wooten-Maxwell, condo sales in new buildings increased to 82 per month from 50 since April. In newer buildings, developers are negotiating uncontested, or "friendly," foreclosures with lenders, avoiding a protracted battle. Last month, the Related Group surrendered its 420-unit CityPlace South in West Palm Beach, where only 39 sales had been completed, to a group of lenders led by Bank of Nova Scotia. Thomas R. Lehman, a Miami lawyer negotiating several friendly foreclosures, said many developers already had quietly turned over the keys. "The wave has started. Public records are catching up to what's already been negotiated. Lenders are realizing that no one is going to buy their loans and they might as well get their projects back and put them on the market." What has been a catastrophe for developers has been a bonanza for renters. The Miami Downtown Development Authority says 62 percent of the already completed new downtown condo units are occupied, split evenly between renters and owners. Rents have declined 15-20 percent. The Related Group instituted an unusual rent-to-own program, in which no price is set in advance and all of the payments count toward a down payment, if the unit is purchased within a year. Joe Higgins, the owner of Grove Town Properties, a local brokerage, said one-quarter of his clients were University of Miami law students doubling up with roommates, but the rest were professionals. With so many new buildings on the market, tenants have become choosy, Higgins said. "Renters don't want the older buildings. They want the granite; they want the stainless steel."
Bulk condo sales transactions recorded since the end of October 2009, according to Condo Vultures:
• October 30 -- An entity based in the Cayman Islands paid an undisclosed amount for the remaining balance of a $261 million construction loan for 244 units at the luxury 900 Biscayne Bay condo.
• November 6 -- Italian investor Ciro Campagnoli paid $5.3 million for 32 units in 401 Blu on Miami Beach, a condo conversion project, for about $154 per square foot.
• November 8 -- Investors from Ocala, Rudy Gram, Anthony Gram, and Beth Fisher with Sharon Hummerhielm, paid $15.4 million for 34 units in the luxury 3030 Aventura condo, at 3030 NE 188th St., for $223 per square foot, a 44 percent discount.
• November 9 -- Canadian apartment operators and developers, Southwest Properties and Armco Capital, paid $17.9 million for the remaining 158 residential units at Downtown Dadeland, a seven-building mixed-use condominium community in Kendall for about $109 per square foot, a 57 percent discount.
• November 12 -- Aventura-based investors David Garfinkle and Adam Pollock paid $4 million for 50 units in the Edgewater Lofts, a new condo tower at 2200 NE Fourth Ave., for $99 per square foot.
---

PHILIPPE DIENER LLC
Top Producer


Brown Harris Stevens


2665 South Bayshore Drive, Suite 100, Miami Florida 33133

Mobile: 786.554.3085 • Fax: 305.808.3493 • E-mail: philippediener@dienerproperties.com
Follow Us on Twitter

Send mail to: webmaster with questions or comments about this web site.
Copyright © 2005 - Real Estate Website - By Philippe Diener