Developer: Neo Epoch
Architect: Revuelta, Vega, Leon P.A.
Description: Three Phase Residential, office, retail and river walk development.
Type: Condos
Units: 471
Floors: 52
Number of Bedrooms: 1,2 & 3
Unit Sq. Ft. Range: 962 - 1,654
Price Range: $440,000's - $900,000's (~ $450-$560/sq.ft.)
Amenities: Temperate Controlled Pool, Business Center and, Conference Room, Racquetball Court, Pet Friendly Environment, 24 hour Concierge, Parking Valet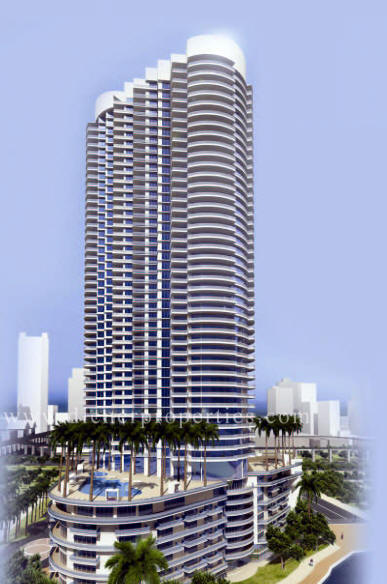 CIMA is the structural embodiment of life, luxury and passion at the top. An urban living experience designed
to indulge the most luxurious lifestyles in a place with vistas of uncompromised beauty.
LIVING AT THE TOP
Luxury should be much more than the perfect Riverfront location. Luxury is best defined by the experience of living. CIMA is a masterful blend of architectural beauty and luxury in an intimate exploration of life. The twenty-four hour white glove service, the multilingual concierge, the staffed business center and the personal
chauffeur all take part in the symphony of amenities that go hand in hand with luxury living. Together with commanding views of the Miami skyline and the River, CIMA is a stunning urban environment that will entertain, inspire and engage people who know the very best and want to live at the top.
ORIENTATION
CIMA is architectural perfection positioned to capture direct waterfront views of the city. CIMA is oriented in such a way that every unit has an inspiring view of the Miami skyline, Biscayne Bay and the Miami River. The panoramas are uninterrupted and unobstructed to what is becoming the ultimate East coast urban metropolis.
LIFESTYLE AMENITIES
While most attention is focused on location and avant-garde architecture, an important element is often overlooked:
Lifestyle. CIMA has centered its attention on providing a complete living experience with lifestyle amenities that aggrandize life. With White Glove Service, a Multilingual Concierge, a Personal Chauffeur and the indispensable Personal Assistant and Lifestyle Coordinator, CIMA is an experience unlike any other in Miami. As with many great things in life, you may feel that you don t need them but you know that you certainly want them. Enjoy.
What to expect from CIMA at RIVERFRONT
MEDIA ROOMS at CIMA
Our modern world requires technologically advanced features that, at your option, can be incorporated into the complete living experience. Each residential unit can be pre-wired for audio speakers. The audio cabling will lead back to the media room and connected to your MP3 ready wall mount music system or stereo of your choice. If practicality is more your style, the multi-function media room can be easily converted into an office, family room, game room, bar, or the type of creative room that compliments your ever-evolving lifestyle.
SPLITS TM at CIMA
Take one large space, divide by two and you have a Split TM . Breaking away from the traditional condominium design style, Splits TM are characterized by two levels of vertical living space with 18 foot ceilings, floating staircases, private balconies and floor to ceiling windows that frame the most captivating Riverfront views. Splits TM offer you a completely different option in urban living spaces - the unique ability to reside within a two-story dwelling in the heart of the city and at the core of the Downtown Miami experience.
ExoRoomsTM at CIMA
ExoRooms TM are among the newest features to hit the urban landscape in Downtown Miami. ExoRooms TM take indoor living spaces and put them outdoors in spaces 12 feet deep. Picture yourself in an outdoor living room in the sky, or dining room, or meditation room. Few can boast about extravagant outdoor unit amenities in a luxury high- rise urban structure, but CIMA is designed to show the world that if you can dream it, you can do it.
Lifestyle Amenities at CIMA
• White Glove Service
• Multilingual Concierge
• Personal Assistant and Lifestyle Coordinator
• Staffed Business Center
• Personal Chauffeur with Automobile (available by reservation only)
• Swimming Pool Attendant
• Experienced Spa Attendant
• Access Control Agent
• Daily Coffee and Tea Service on the Club Level
• Daily Water Spritzers at the Spa
• Parking Valet
CIMA BUILDING AMENITIES
Double Height RiverClub™ overlooking the Miami River, Biscayne Bay and The City. Sitting nearly 100 feet in the sky, on this 30,000 square foot lushly landscaped urban oasis you will find:
• Signature Wellness Pavillion with state of the art fitness facility and studio surrounded by reflecting pools and cabanas.
Indoors:
• Professionally equipped communal kitchen with Chef 's table for up to 24 guests with adjoining Great Room.
• Staffed His and Hers Spa with Massage, Steam and Sauna Rooms
• Holistic Center with Meditation Area
• Sports Room (Bar, Billiard Table and Plasma TV)
• Cigar and Wine Parlor and Library
• Children's Playroom
Outdoors:
• Temperate Controlled Reflection POOL with lounging areas
• Lap Pool
• ExoBath™
• Starlight Dining Room
• Sky Bar
• Meditation Garden
• Bonfire Cove
• Business Center and Conference Room
• Pet Friendly Environment
• WiFi Broadband Connection in Lobby and Amenities Deck
UNIT FEATURES
• ExoRooms™
• Media Rooms
• Unobstructed views of the City, the Miami River and the Bay
• Floor to Ceiling Windows
• Impact Resistant Windows and Doors
• Ceiling Heights of up to 18 feet
• European Kitchen Cabinetry
• Granite Counter Tops
• Stainless Steel Appliances
• Natural Stone in Bathrooms
• Designer Selected Bathroom Fixtures
• Designer Ready Walk In Closets
• Smart Building Technology (available)
• Each residence wired for high speed internet uplink
• MP3 Ready Audio Cabling*
• Concealed Kitchen*
• Double Entry Shower*
• Flooring*
*Available as a Residential Upgrade
Cima Miami River Southeast View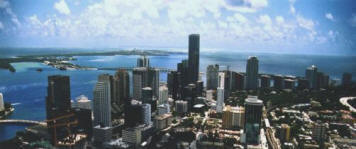 Cima Miami River Northeast View