About Golden Gate City Naples Homes and Real Estate
Golden Gate City Naples, located just east of Naples near Alligator Alley (I-75). A developer created the largest subdivision in the world by draining miles of swampland in Naples' Collier County. The Golden Gate City Naples were plotted into undeveloped single family home lots of an acre or more. Golden Gate City was to be the urban section of the project. Golden Gate City has public parks, a golf course and other public amenities in the area. There are cannels within, but these are for drainage, no gulf access. There are over 4,000 single family homes in Golden Gate City, and a handful of condo complexes. While home building was meant to takeoff in the 1960s, it did not get going until the mid 1970s.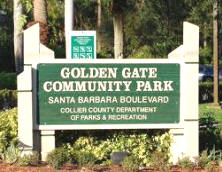 Picayune Strand, which stretches to the Fakahatchee Strand State Preserve, offers two riding/walking trails. For equestrians, scenic Belle Meade Horse Trail is located one mile south of I-75 on Everglades Boulevard. Sabal Palm Hiking Trail is located three miles east of Collier Boulevard for those that enjoy walking fitness. With Collier-Seminole State Forest and these fine recreational parks nearby, equestrians and outdoor lovers alike have miles of trails to partake in year after year. Most parcels are one to five acres, but other homesteads can be as large as ten acres. As for the homes themselves, you can find entry-level homes or glamorous mansions closer to the beach. Guesthouses, pickup trucks, all-terrain vehicles (ATV) and recreational vehicles (RV) are also allowed on all premises unlike many other communities. As for housing itself, you can find single-family dwellings in Golden Gate City with some located on mile-long streets that dead end at a canal - providing valuable privacy for owners.
A LITTLE HISTORY OF GOLDEN GATE CITY NAPLES FLORIDA
Golden Gate Citys began about 50 years ago when The Gulf American Land Corporation purchased 177 square miles of land for development about 7 miles northeast of Naples. Prospective buyers were brought in by airplane, Green Blvd is the old landing-strip, and many only saw their lot from the air. Sales were slow and by 1970 there were still fewer than 2,000 residents. Golden Gate is in Collier County, and bears a Naples address. About 50% of the lots in Golden Gate City have some wetlands.
Wetlands
All wetland lots are buildable, though special permits are required. The size of the house and pool are not restricted, but detached structures (such as guest house, garage, barn, shop) may not be placed within wetland, but may be connected to the main building (a breezeway would connect). Most lots that have wetlands also have upland. No ERP permits are needed to build on the uplands part of your lot. There are private consultants that handle all phases of wetland determination and permitting.
Compensatory Mitigation
Mitigation is used to offset the destruction or impact created by building on a wetland. Mitigation costs can be paid by buying credits from a mitigation bank. (You pay for wetlands in another area to equal the size and quality of the wetland you are impacting.) Depending on the type of permit needed, mitigation may or may not be required.
A library, fire station and general store are all nearby. The community contains needed amenities while maintaining its small town feel. Golden Gate City is growing in popularity as a family area of Naples too by having some of the newest schools in the Collier County school district. Since parcels are large, homes are not crowded or stacked upon each other. On the other hand, you're not totally isolated from local family, friends and neighbors. Set among pines, palms and cypress trees, Golden Gate City offers modern day living set within Florida's natural vegetation. What it all means is whether you're single, married with children or retired, Golden Gate City has something for everyone no matter your price range or status.
Selling your Golden Gate City Home? Contact Golden Gate City real estate area specialist for a free and without obligation market analysis on your real estate property. Also find out the numerous advantages of listing your home with the Coral Gables real estate specialist and the benefits it offers to feature your Golden Gate City Coral Gables real estate property on this site.
Golden Gate City in Naples is a hidden treasure within Florida
The large parcels in this area give the freedom of seclusion, but they are not so large that owners are totally isolated. Located near major expressway I-75, Golden Gate City is one hour to Ft. Lauderdale and two and a half to Tampa. Naples beaches are within a 20-minute drive. Golden Gate Citys residents also have easy access to the Southwest Florida International Airport. Buyers can find homes in the $200s to millions of dollars, depending on size and location. Wooded acres allow hoofed animals and ATVs for outdoor enthusiasts.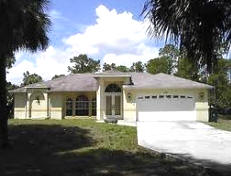 Golden Gate City Naples Amenities: In addition to being less than 30 minutes from Naples beaches, there are new schools in the area, a National Park, a library, a fire station and a general store. For golf lovers, you'll find both public and semi public courses nearby. Golf Courses: Golden Gate City golf course vary from public to semi private courses such as Valencia Golf and Country Club, Golden Gate Country Club, Arrowhead Gold Course, Cedar Hammock Gold and Country Club and Forest Glen Country Club. Valencia Golf and Country Club: A first class public golf course rated three and a half stars from Golf Digest, Valencia's course is for players of all skill levels. With nearly 7,000 yards and wide fairways this beautiful course and country club is located just seven miles east of 1-75.
Golden Gate Country Club: Part of a Quality Inn & Suites Resort property, Golden Gate Country Club features 180 rooms - efficiencies and suites - in addition to fine golfing. Located on the Golden Gate Parkway, and only minutes from the sandy beaches of Naples, you\'ll find an 18-hole, par 72, 6,570-yard championship golf course. Designed by architects Dick Wilson and Joe Lee, this course is constructed for all skill levels. With a lighted driving range and putting green you can practice day or night.
Complete with its own public golf course, The Fairways, Golden Gate City residents are privy to the best Southwest Florida has to offer. Various championship courses and clubs are ubiquitous to this area, so no matter what your skill or desired level of play, you'll find it nearly right in your backyard. There is also the lovely, energetic Golden Gate Community Park, where you'll often find residents enjoying outdoor activities of all kinds within this beautiful green area. There's a great playground for the kids, plus lighted softball, baseball and little league fields as well as a lighted soccer/football field, four lighted tennis and racquetball courts, lighted basketball courts, a shuffleboard and a bocce ball court, a remote-control car track and a paved fitness trail.
Golden Gate Citys Beach Park: The white sandy beaches of Naples on the Gulf of Mexico are only a short 30-minute drive for most Golden Gate City residents.
Golden Gate Citys Naples Clubs and Organization: The Golden Gate community has a host of various clubs and organizations including: VFW, MOMS Club, chess clubs, AARP, FOE, Kiwanis Club, and Rotary. Residents can also find special activities such as dance classes in ballroom, swing, Latin and salsa at the Golden Gate Community Center.
The Golden Gate City Florida Lifestyle: With something in every price range, residents vary from single individuals through retirees, although the growing majority of owners are those with children, thanks the new school construction in the area. People who enjoy outdoor living, horseback riding and such are drawn to the Golden Gates Estates area because of its policy on allowing horse, RV and ATV ownership.
Golden Gate City is a community of single family homes near or on Sapphire lake. Some of the homes offer exquisite views of Lake Sapphire and beautiful Sunsets. Most homes offer lots of mature landscaping.