Green Diamond Miami Beach Condo Floor Plans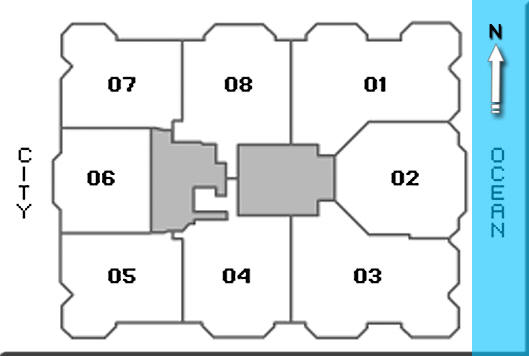 Blue Diamond
Condo No.
Sq.ft.(m2)
Interior
Sq.ft.(m2)
Exterior
Sq.ft.(m2)
Total
Bed / Baths
Floor Plans
(PDF)
01
1980 (183.9)
325 (30.1)
2305 (214)
3 / 3
Download
02
1530 (142.1)
205 (19)
1735 (161.1)
2 / 2 + Den
Download
03
1010 (186.7)
325 (30.1)
2335 (216.8)
3 / 3
Download
04
1490 (138.4)
245 (22.7)
1735 (161.1)
2 / 2
Download
05
1380 (128.2)
185 (17.1)
1565 (145.3)
2 / 2
Download
06
1100 (102.1)
130 (12)
1230 (114.1)
1 / 2 + Den
Download
07
1380 (128.2)
185 (17.1)
1565 (145.3)
2 / 2
Download
08
1550 (144)
245 (22.7)
1795 (166.7)
2 / 2 + Den
Download
About Green Diamond Miami
The Green Diamond Miami condo located on 500 feet of pristine beachfront property on Miami Beach's famed "Millionaire's Row," 45-story condominium towers will certainly dazzle you. With one, two and three bedroom luxury oceanfront residences, offer spectacular views of the Atlantic Ocean, Intracoastal Waterway and Miami's stunning city-skyline. While seemingly a world away, the Blue & Green Diamonds are ideally situated minutes from world-renowned South Beach, the impeccable shops of Bal Harbor, Downtown Miami, fabulous entertainment and fine dining alike.
The Green Diamond Miami condominium soar 45 stories above the famed Golden Mile of Miami Beach, a part of the revitalized Millionaire'
s Row area of the famed barrier island. With over 500 feet of immaculate cabana-dotted beachfront, the properties have attracted celebrities and executives who have wanted exceptional views, luxury appointments and accessibility to the best that Miami has to offer.

The condo towers are home to a capacious clubhouse. His and Hers saunas and steam rooms augment whirlpools and well-equipped exercise areas as well as adult and children's ocean-side pools. Two lighted tennis courts serve residents who can also utilize a billiard and entertainment center.

The 1-, 2- and 3-bedroom condos afford spectacular water views of the Atlantic Ocean, inter-coastal waterways and Miami's skyline. They range from 1100 to 2,680 square feet and have, in standard units, 9-foot ceilings. Eight different creative floor plans are available. European cabinetry is featured in the custom kitchens. Green Diamond baths are appointed in marble and include Jacuzzi tubs.

Part of the appeal of the Green Diamond Miami is its proximity to the famed South Beach entertainment and dining district as well as to the top-tier shopping available in Bal Harbour. The greater Miami area is within easy reach, including Miami International Airport and Miami's theaters, sports facilities, golfing and marine activities. The Green Diamond Miami provides an exceptional combination of quality, location and affordability.
Green Diamond Tower is one of the most famous buildings in Miami Beach due to its stunning views, spectacular location, incredible amenities, and recent impeccable renovations. The Green Diamond, one of the highest twin towers on the Golden Mile in the Mid-Beach area, just north of the world- famous Fontainebleau Hilton complex. Featuring spectacular views of the Ocean and the city of Miami Beach as well as the Intracoastal waterway and downtown Miami. The over forty five stories tall Green Diamond is one of the most sought-after properties on Miami Beach.
Available Green Diamond Miami Beach Condo Green Diamond Miami Beach Condo Location
Green Diamond Miami Beach Condo Association
Management Office
4775 Collins Ave. Miami Beach, Fl. 33140