The Miami World Center is a nine block mixed-use development immediately north of the Central Business District in downtown Miami. It is defined by NE 2nd Avenue to the east, North Miami Avenue to the west, NE 11th Street to the north, and NE 6th Street to the south. Spanning over twenty five acres, the Miami World Center includes a dynamic mix of retail, residential, office, and institutional uses. It will create a vibrant, walkable pedestrian environment with a unique sense of place: a modern design statement driven by Miami's unique physical context, culture, and architectural heritage. The Miami World Center design standards will establish appropriate standards for the design of streets, public spaces, and buildings within the SD-16.3 Special District area. These design standards expand on the requirements identified in Section 627.1 and shall be considered minimum requirements for all new development.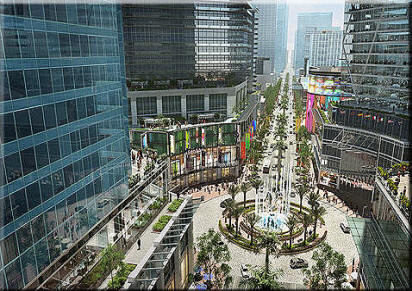 An unprecedented assemblage of almost 30 acres has been meticulously amassed in the core of one of America's most electrifying cities. An assemblage that is surrounded by world-class amenities. An assemblage that is connected by every means of transportation possible to everything that matters. At this point in time, there are only a few opportunities around the globe that allow for such a city-redefining project. And now, brought to this assemblage, is a vision so epic that it will forever change the City of Miami.
This vibrant new epicenter to live, work, and play – and a magnetic destination for visitors from all over the world – will bring together a compelling and unique blend of exceptional entertainment, retail, residential, and commercial offerings in one thriving location, elevating Miami to a truly global city.
Miami World Center - These nearly 30 acres in the heart of downtown Miami will be transformed into one of the largest private master-planned urban environments in the world. With up to 20 million square feet of buildable area, this is not a project or a development – it is a city within a city.

2nd Miami casino site looking for suitors
With a new investor, the 20 acres of downtown land known as the Miami World Center is attracting attention from Steve Wynn and other Vegas players.
By DOUGLAS HANKS
Miami's other potential casino site wants to keep its options open.
Known as the Miami World Center property, the 20 acres near AmericanAirlines Arena now has a new financial backer to help assemble the final pieces of the site and jumpstart development. A source close to the project said Las Vegas casino mogul Steve Wynn walked the site as recently as last month. "He's excited about Miami,'' said the source, who asked to speak anonymously given the sensitivity of the talks between developers and potential casino partners.
A Wynn visit would make sense: the Vegas mogul has publicly expressed his enthusiasm about building a casino in Miami, but he has not yet been linked to a potential location. His Sin City rival, Las Vegas Sands, already has signaled its interest in building a casino on the World Center site. The land owned by Boca Raton builder Art Falcone and partners is bounded by North Miami Avenue and Northeast Second Avenue and Northeast 11th Street and Northeast Sixth Street.
Both Sands and Wynn ramped up their Florida efforts after Genting Group, Southeast Asia's largest casino operator, purchased The Miami Herald's downtown headquarters. Shortly after the deal closed in May, Genting unveiled plans for a nearly $4 billion resort there. The move energized efforts to expand gambling in Florida, and lawmakers now are considering a bill that could bring three massive casino resorts to South Florida.
On Tuesday, World Center developers announced one of the most active real estate buyers in the country, CIM Group in Los Angeles, purchased an undisclosed stake in the venture. The influx of capital should help World Center finish up repurchasing the nearby lots lost to foreclosure during the real estate crash, as well as resolve litigation over past deals. CIM recently caused a stir in Manhattan with plans to build the city's tallest residential tower — a 1,300-foot high-rise on Park Avenue. CIM is also building a casino hotel in Las Vegas on the site of the former Lady Luck.
News of a possible Wynn visit comes as World Center executives privately try to play down the site's Sands connection. A press release issued by the developers Tuesday notes only that the land "could easily accommodate a gaming component" if Florida allows it. While Sands is in talks about opening a massive casino resort there if Florida loosens its gambling laws, other Vegas players also have inspected the World Center land, the source said. Privately, Sands representatives say they're looking at other South Florida sites as well. A Wynn spokesman did not respond to a request for comment Tuesday. The mogul whose name sits atop one of his two 4,700-room Vegas hotels recently told analysts that Miami could generate $3 billion in gambling revenues a year, and become one of "one of two or three greatest destination resort cities in the world."
His competitor, Sands CEO Sheldon Adelson, argues Miami has less potential for casino resorts. In public statements and in meetings with local elected officials, Adelson said Sands would only pursue a Miami location if it held the only casino license in the area. Genting and Wynn endorse multiple resorts for South Florida. Adelson wants to build a hotel complex large enough to accommodate massive conventions that typically go to Las Vegas or Orlando, and a Sands Miami complex would include about 1.5 million square feet of exhibition space, people briefed on the Sands plan said.
Adelson met with Miami Mayor Tomas Regalado and Miami-Dade Mayor Carlos Gimenez during a recent trip to Miami, using office space secured by World Center executives, people familiar with the talks said. The office overlooks the World Center site and one source who was there said Adelson talked about World Center's potential as a Sands casino. Regalado said Adelson never discussed the site, though there is no other spot downtown that could accommodate Adelson's plan. "He did not specifically say the Miami World Center," Regalado said. "But that's the only place you can build."