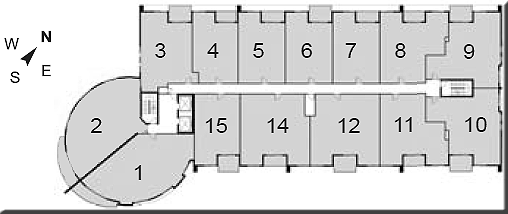 Line
Beds
Floor
Levels
Sq.Ft.
Condo
Location
Download
01
3/2
Floors
7-18
A/C: 1457
Terr.: 111
Total: 1568
Download
PDF
02
3/2
Floors
7-18
A/C: 1403
Terr.: 111
Total: 1,514
Download
PDF
03
2/2
Floors
7-18
A/C: 935
Terr.: 80
Total: 1,015
Download
PDF
04
1/1+Den
Floors
7-18
A/C: 800
Terr.: 80
Total: 880
Download
PDF
05,06,07
1/1+Den
Floors
7-18
A/C: 809
Terr.: 80
Total: 889
Download
PDF
15
1/1+Den
Floors
7-18
A/C: 834
Terr.: 75
Total: 909
Download
PDF
08
2/2+Den
Floors
7-18
A/C: 1052
Terr.: 80
Total: 1132
Download
PDF
09,10
2/2+Den
Floors
7-18
A/C: 1042
Terr.: 72
Total: 1118
Download
PDF
11
2/2+Den
Floors
7-18
A/C: 1072
Terr.: 85
Total: 1157
Download
PDF
12,14
3/2
Floors
7-18
A/C: 1209
Terr.: 66
Total: 1,275
Download
PDF
One Plaza West Brickell Condo Association
Management Office
1800 SW 1st Ave. Miami, FL 33129
One Plaza West Brickell is a luxury South Florida condominium residence. 22-story mixed use residential and office condominium tower in the heart of the Brickell Corridor. This unique property is strategically located at the nexus of Central and South Miami between Downtown, Brickell, Coconut Grove and Coral Gables. From the glass enclosed units of One Plaza West Brickell, gorgeous vistas of the Brickell Skyline, Biscayne Bay and the ocean, will define the day to day experience of those who live and work in this stylish, urban property.
Developed by Melo Development, the One Plaza West Brickell condo was completed in 2009. The 22-story, Bayfront property has 1, 2 & 3 bedrooms for sale. The condos have water and city views and range from 800 - 1,457 square feet. see floor plans.
One Plaza West Brickell Building Amenities:
- Valet Parking Attendants
- Multi-level secured garage with parking
- 24 hour Concierge and Security Services
- Mail and package receiving desk
- Stylish Swimming pool set within
- Luxury resort styled 7000 Sq. Ft. recreation area
- Sports Center Media Lounge with kitchen facilities for residents get together
- Fitness and cardiovascular center
- Al Fresco Dining Pergolas with professional barbeque stations
- Covered parking garage with assigned parking
- Modern Business Center
- High Speed Elevators.

Available One Plaza West Brickell Condos One Plaza West Brickell Condo Location