Miami Florida Luxury Penthouse Real Estate offers the best in class. Whether you are looking for a Miami Penthouse for investment, second home or primary residence, you will find a wide variety of architectural designs that will meet all your luxury needs.
Within South Florida, you can search for your perfect luxury Miami Penthouse for sale or rent. There are different areas to choose from. Luxury Real estate geographic areas such as Miami Beach, Coconut Grove, Coral Gables, Brickell Avenue and the exclusive Brickell Key Island.
Some of the best Miami Penthouses feature beach access as well as full amenities and concierge services. Many of these top level penthouses feature breathtaking water and city views. Thanks to the wide range of architectural variety, there is a Miami Penthouse for all tastes and criteria.
While Miami Beach Penthouses offer beach access, multi-level layouts and modern construction, Brickell Penthouses offer amazing water views, fine dining and a centric location. Coconut Grove and Coral Gables Penthouses offer amazing dining and shopping with a more traditional architectural finish.
About Luxury Real Estate
The characteristics that define Luxury real estate differ among countries. However, location largely defines the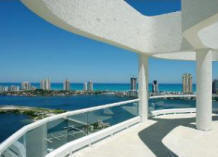 property's value, especially with respect to whether it offers views (particularly, waterfront ones) or amenities such as proximity to golf courses, school districts, and the downtown district. Thus, a 750-square-foot (70 m2) waterfront home with less than 1-acre (4,000 m2) of property might be worth more than a 10,000-square-foot (930 m2) mansion with 10 acres (40,000 m2) of property.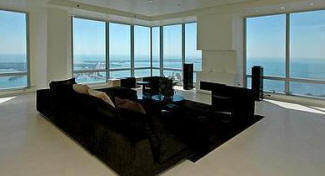 Luxury Miami real estate is real property that is has an appraised value of over $1 million in the United States. The definition of what constitutes a luxury property has changed slightly largely because of the housing crash. The classification also takes into account the presence of surrounding homes, amenities, views, waterfronts, absence of crime-rate, industrialization or unwanted commercialization, customizations of the home, and historical or architectural significance.
Request More Information about Luxury Miami Penthouses for Sale or Rent