About the Village of Palmetto Bay Real Estate for Sale or Rent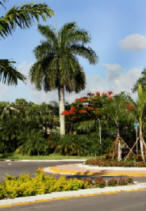 The Village of Palmetto Bay is a vibrant community of more than 25,000 residents who enjoy its beautiful surroundings and family-oriented atmosphere. Situated immediately west of beautiful Biscayne Bay, Palmetto Bay offers unique recreational opportunities and bay access for all to enjoy! Additionally, the Village is home to excellent public schools, all of which have annually earned the grade "A" under the State of Florida's A+ Plan, as well as exceptional private schools.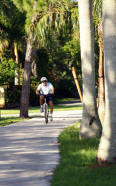 Village residents enjoy the benefits of an extensive park system composed of six park facilities offering a myriad of opportunities ranging from active to passive, recreation to preservation, ground activities to water recreation, and a soon to be constructed neighborhood library. Its commercial corridor along South Dixie Highway is easily and quickly accessible from any location within Village limits. Restaurants, lodging and markets are a few of the service industries available to our residents and visitors.
Incorporated on September 10, 2002, the Village of Palmetto Bay is the 33rd municipality in Miami-Dade County. The Village extends from the centerline of S.W. 136th Street, south to the centerline of S.W. 184th Street, expanding west to the centerline of South Dixie Highway, including the center island, and east to Biscayne Bay. This year, the Village celebrates its Fifth Anniversary as a duly incorporated municipality! In this short span of time, the Village has succeeded in building community character by creating a distinct community identity through the installation of new street signs and completing traffic & beautification projects, improving customer service and facilitating access to government services, building a better police force, and improving and expanding Village park facilities for the enjoyment of all residents, dubbing us the "Village of Parks."
The Village of Palmetto Bay is located adjacent to Biscayne Bay and south of the City of Miami. Palmetto Bay offers its 25,000 residents direct bay access, lush landscaping, historical sites, popular annual events, and numerous city operated parks, which has ultimately earned it the nickname, Village of Parks. The Village of Palmetto Bay holds annual events that attract hundreds of visitors, including the popular In the Park with Art at Coral Reef Park. The annual exhibition, held in October, is presented by The Cultural Council, Inc. and has been attracting local artists, national artists, residents and tourists alike since 2003. Continuing its commitment to development and its residents, The Village of Palmetto Bay is currently planning to add a neighborhood library. Palmetto Bay also boasts markets, restaurants and lodging options.
The Village of Palmetto Bay Homes Real Estate is a hidden treasure within South Florida.