PLAZA ON BRICKELL CONDO HOME PAGE
Plaza Condo Brickell Description
The project consists of two towers incorporating about 1,000 residential units ranging from 700 to 1,400 square feet. The development is a joint venture of Related and French investor Claude Dray. Mr. Rocha said the project's two towers - one running north-south, parallel to Brickell Avenue, the other with an east-west orientation - will form a triangle with the existing and neighboring One Brickell Square, 801 Brickell Ave. The Plaza on Brickell, a two-tower mixed-use development to rise at 950 and 951 Brickell Ave., will incorporate a major restaurant or club fronting Brickell and a 30,000-square-foot open-air square with interior eateries, bars and gardens.
Plaza on Brickell Condo Miami Site Plan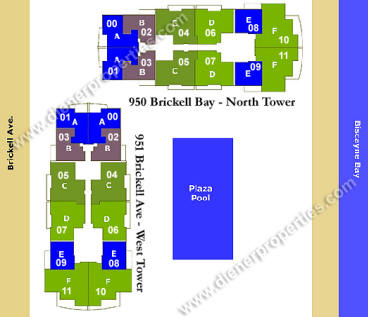 CONDO FLOOR PLANS
Please click on floor plan to download JPG
MODEL PLAN
BED / BATH
BALCONY
SQ.FT.
UNIT LOCATION
DOWNLOAD
JPG
Plaza Brickell Condo
Model A
Lines: 00 - 01
1 Bed 1 Bath
Interior: 838 SqFt
Balcony: 130 SqFt
Total Area: 968 SqFt

Download JPG
Plaza Brickell Condo
Model B
Lines: 02 - 03
1 Bed 1 Bath
Interior: 750 SqFt
Balcony: 85 SqFt
Total Area: 835 SqFt

Download JPG
Plaza Brickell Condo
Model C
Lines: 04 - 05
2 Bed 2 Bath
Interior: 1,200 SqFt
Balcony: 120 SqFt
Total Area: 1,320 SqFt

Download JPG
Plaza Brickell Condo
Model D
Lines: 06 - 07
2 Bed 2 Bath
Interior: 1,180 SqFt
Balcony: 120 SqFt
Total Area: 1,300 SqFt

Download JPG
Plaza Brickell Condo
Model E
Lines: 08 - 09
1 Bed 1 Bath
Interior: 680 SqFt
Balcony: 100 SqFt
Total Area: 780 SqFt

Download JPG
Plaza Brickell Condo
Model F
Lines: 10 - 11
2 Bed 2.5 Bath
Interior: 1,395 SqFt
Balcony: 205 SqFt
Total Area: 1,600 SqFt

Download JPG
About the Plaza on Brickell Condo
Plaza on Brickell Condos Location:
901 and 851 Brickell Ave, Miami Florida.
In the Brickell financial center

Unit condo Desecrations:
1 Bed /1 Bath: 674 - 847 Sq.Ft
2 Bed/2 Bath: 1,054 – 1,209 Sq.Ft
2 Bed/2.5 Bath: 1,400 Sq.Ft

Condo project description:
Architect: Nichols, Brosch & Sandoval
Towers: 901 and 851
Number of Units: 440 and 560
Number of floors: 43 and 56

Project style: Residential/ Mixed use

Plaza on Brickell condo - Project Concept
With over 30,000 sq.ft of commercial/retail on the street level, the Plaza will become the new meeting point for work and play, breathing more life and vitality to the financial district.

Located in the heart of Brickell, "The plaza" offers a dynamic lifestyle featuring
Downtown "Manhattan" style living,
Immediate access to the best Spas & Fitness clubs (Mandarin Oriental & LA Fitness)
Walk to Mary Brickell Village
Walk to Restaurants
Walk to work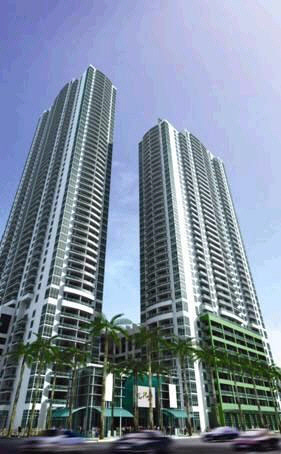 Plaza on Brickell Condo