$200,000 to $299,999
See Condo Listings
$300,000 to $499,999
See Condo Listings
$500,000 to $699,999
See Condo Listings
$700,000 to $899,999
See Condo Listings
$900,000 to $999,999
See Condo Listings
$1,000,000 to $2,999,999
See Condo Listings
$3,000,000 to $4,999,999
See Condo Listings
$5,000,000 +
See Condo Listings
$1,500 to $1,650
See Condo Listings
$1,651 to $2,000
See Condo Listings
$2,001 to $2,500
See Condo Listings
$2,501 to $3,000
See Condo Listings
$3,001 to $4,000
See Condo Listings
$4,001 to $7,000
See Condo Listings
$7,001 +
See Condo Listings
Welcome to Sunny Isles Beach Florida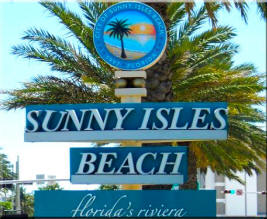 The city of Sunny Isles Beach is home to some of the most prestigious Condos you will find anywhere in Miami South Florida. Sunny Isles Condos range from low-rise Mediterranean style, to luxury high rises Condominiums with every conceivable amenity. Sunny Isles Condos range in prices from the low 250's into the millions.
Sunny Isles condos - The City of Sunny Isles Beach has one of the hottest Real Estate markets in regards to condominium investments. The city is becoming more and more attractive to many condo buyers and Real Estate investors. There are also other cities in Florida State following the same trend: Sarasota and West Palm Beach-Boca Raton. On the other hand the metropolitan areas of Tampa, Orlando and Jacksonville have also reached the highest positions into the Real Estate industry. Florida State has everything and is specially recognized by major foreign countries such as London, Paris and Canada. The people from these countries invest on beachfront condo units in Sunny Isles City whether is for business office purposes or for living in. However, Latin American business owners, executives, homebuyers, home investors feel like home since language is no longer a barrier for them. Sunny Isles City is a real condo paradise where many cultures are continually renovating ideas and exposing them to the opening of new businesses opportunities for everyone.
About Sunny Isles Condos Miami:
Sunny Isles Condos -
Sunny Isles features many resale's of Condos also. There is something for everyone in Sunny Isles. You can find small one and Two bedrooms at affordable prices. There are also properties in the mid level range that offer full service amenities and great views of the bay and ocean. Then there are the ultra luxurious condominiums that offer the best of everything. Sunny Isles is also home to some of the finest pre construction Condos. Sunny Isles is just minutes from either airport or seaport you may chose to depart from.
Sunny Isles Condos are very close to world class shopping and dining. The Aventura Mall and Bal Harbor Shops are just minutes away from all of the Sunny Isles Condos. The Aventura Mall is home to great restaurants and department stores such as Bloomingdale's and Macy's. Bal Harbor is full of the high end boutiques such as Gucci, Prada and Louis Vinton. Chang's as well. Sunny Isles offers something for everyone.
Sunny Isles strive as one of the most beautiful areas to be part in South Florida. The city of Sunny Isles, with it's newly built Condos is now attracting end user from all over North US to Europe, and South America. Sunny Isles have great restaurants, late night classy bars, top of the line movie theaters, high end clothing boutiques, near by golden beaches, and an exclusive high class of residents all add up to the wonderful mix that attracts buyers from all over the country, and overseas. Sunny Isles Beach is a city located in northeastern Miami-Dade County, Florida.
Sunny Isles Condos and Real Estate
Sunny Isles Miami Florida has a wide range of real estate for sale. From luxurious mansion style homes to beautiful waterfront homes and condos, there is something here for everyone's tastes and desire in Florida waterfront real estate. For singles and families alike, Florida real estate property is abundant and affordable and appreciating like never before. A Florida real estate investment anywhere within Sunny Isles condo area is wise and will pay dividends for years to come.
Everything you need is close by; beautiful parks, restaurants, chic shops, complete business centers, recreation and shopping malls, modern & safe award winning schools. This is a city full of life, vitality and enthusiasm. There are every conceivable type of Florida real estate for sale here, offering fine custom homes, condos, affordable rentals and weather and a way of life you just cant beat. This prime South Florida real estate is in very high demand, with properties turning over fast.

View Sunny Isles Condos in a larger map