Indian Creek Miami is a paradise for the richest and most famous people of the world and boasts some of the most exclusive Miami real estate properties. These luxury Miami homes are well-groomed and surrounded by the island's impeccable landscaping. Julio Iglesias, former dolphin coach Don Shula and Philadelphia Eagles owner Norman Braman are just a few of the islands famous residents.
Indian Creek Miami houses are located near other desirable homes on the islands locations such as Star Island Miami homes, Palm Island Miami homes, Venetian Island homes and Fisher Island Miami condos and homes. This i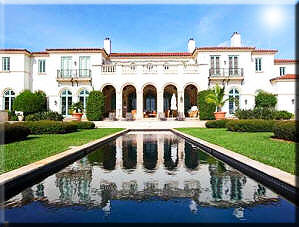 s definitely one of the finest Miami waterfront luxury homes community today, though it's past may have roots in a rather wild and rowdy lifestyle, the community today is known for being relaxed and laid-back. It's proximity to Miami Beach make it a convenient place to live in that it combines the tranquility and exclusiveness of an island with ready access to anything one might need from the urban centers of the state. Given that this island has been desirable for almost the entirety of the last century, it's unlikely to lose popularity in the foreseeable future.
Indian Creek Miami is also known to be a place where avid boaters enjoy living. Cruising by in a boat, you may see boats docked in Indian Creek homes that are the nicest in all of Miami Beach. Located in the beautiful crystal blue waters of Biscayne Bay is a luxury island community known as Indian Creek Miami Beach. This island is part of a group of manmade islands located between the Miami mainland and the large barrier island of Miami Beach. Indian Creek is ovular, a perfect shape to maximize the number of waterfront property available.
Indian Creek Miami homes are known for their high level of luxury and amazing architectural designs that vary from waterfront home to waterfront home. Most Indian Creek Miami homes have amenities like lush landscaping, boat dockage and luxurious pools. Indian Creek Miami residents enjoy the seclusion of a tropical island paradise. Surrounded by the bay on all sides, it's a perfect location for avid
boaters to call home. In fact, many of the homes on Indian Creek do have boats, some of which are quite impressive. But you don't need a boat to enjoy living on Indian Creek Miami. The magnificent homes, the exclusivity and the proximity to several popular areas are reason enough. Each home has a decent amount of acreage that allows for large areas for waterfront access, large private areas and beautiful driveways. Indian Creek is also known for its beautiful homes that range from three-bedroom villas on the inland areas to massive eight-bedroom homes with boat dockage that can fit large and luxurious yachts.
Indian Creek is an island separate from the mainland of Miami Beach, but technically a community within Miami Beach. This is appropriate since Indian Creek is very close to Miami Beach. Indian Creek Miami residents enjoy being centrally located between Miami and Miami Beach which allows them to venture to either area with a five-minute drive. Every waterfront home in Indian Creek has breathtaking views of Biscayne Bay, Miami Beach and the Downtown Miami skyline.