About Kendall Miami Fl Real Estate
Real estate in Kendall has seen vast improvement in the recent years. Affordability in the area is high and this is one of the reasons that prompt people to settle here. There are four basic kinds of real estate available, single family residential homes, multi-family residential units, condos and townhouses.
History of Kendall Miami: Much of what is now Kendall was purchased from the State of Florida in 1883 by the Florida Land and Mortgage Company. It is named after Henry John Broughton Kendall, a director of the company who moved to the area in the 1900s to manage the company's land. As the land was not open to homesteading, development was slow well into the 20th century. A post office opened in 1914, and the first school opened in 1929. After the end of the land boom in 1926, some residents left. Two Seminole camps were in the Kendall area, and Seminoles continued to live there into the 1940s.
Kendall Miami Geography: Kendall is located at 25°40′0″N 80°21′24″W / 25.66667°N 80.35667°W / 25.66667; -80.35667 (25.666781, -80.356533.
According to the United States Census Bureau, the Kendall region has an approximate total area of 42.3 km² (16.3 mi²). 41.8 km² (16.1 mi²) of it is land and 0.6 km² (0.2 mi²) of it (1.35%) is water.
Climate: Climate in Kendall Miami FL is quite similar to the rest of interior Miami-Dade County. Summers are warm and wet. Winters tend to be milder and cooler than the coast and Downtown Miami. Regular temperatures during summer are hot in the 90s during the day, but very mild in the 70s at night. During summer, unlike winter, temperatures don't vary much. During winter, temperatures are mild in the 60s thru 70s and cool at night in the mid to low 50s. Warm fronts during winter can bring spring temperatures in the 80s as highs, and cold arctic fronts can bring low temperatures into the mid to low 40s. It is normal for there to be at least 3–4 days of winter when temperatures can dip into the high and mid 30s. Even at times at least once every season the lows can go into the low 30s and even to freezing point. Kendall is one of the seven locations in Miami to be affected by the three snowfalls in recorded history in South Florida. Kendall was mainly affected by the 1989 Christmas Eve snowfall. Spring is very moderate in Kendall with highs pretty much in the 80s and lows in the 60s. Surprisingly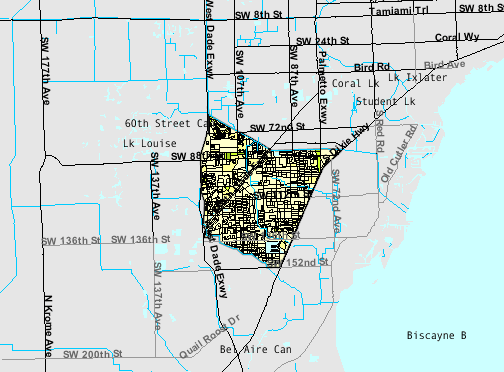 Kendall Miami Demographics: As of the census of 2000, there were 75,226 people, 28,482 households, and 19,652 families residing in the CDP. The population density was 1,800.7/km² (4,664.8/mi²). There were 29,669 housing units at an average density of 710.2/km² (1,839.8/mi²). The racial makeup of the CDP was 86.48% White (of which 41.6% were Non-Hispanic Whites,) 4.45% African American, 0.14% Native American, 2.99% Asian, 0.03% Pacific Islander, 2.81% from other races, and 3.10% from two or more races. Hispanic or Latino of any race were 49.91% of the population.
Population History of Kendall Year Population
1970 - 35,497
1980 - 73,758
1990 - 87,271
2000 - 75,226

Kendall lost census territory when Pinecrest incorporated in 1996. Source: The United States Census Bureau
There were 28,482 households out of which 33.4% had children under the age of 18 living with them, 51.0% were married couples living together, 13.8% had a female householder with no husband present, and 31.0% were non-families. 24.4% of all households were made up of individuals and 7.3% had someone living alone who was 65 years of age or older. The average household size was 2.61 and the average family size was 3.14. In the region the population was spread out with 23.3% under the age of 18, 8.6% from 18 to 24, 31.8% from 25 to 44, 24.9% from 45 to 64, and 11.5% who were 65 years of age or older. The median age was 37 years. For every 100 females there were 88.5 males. For every 100 females age 18 and over, there were 83.4 males. The median income for a household in the area was $51,330, and the median income for a family was $61,241. Males had a median income of $42,875 versus $31,416 for females. The per capita income for the area was $27,914. About 5.7% of families and 8.6% of the population were below the poverty line, including 8.0% of those under age 18 and 10.9% of those age 65 or over.
As of 2000, speakers of Spanish as a first language accounted for 52.46% of all residents, while English speakers comprised 40.38%, Portuguese was 1.49%, French at 1.12%, and French Creole made up 0.95% of the population.
As of 2000, Kendall had the twenty-first highest percentage of Cuban residents in the US, with 21.31% of the populace. It had the twenty-fifth highest percentage of Colombian residents in the US, at 4.56% of the population, and the sixteenth highest percentage of Nicaraguan residents in the US, at 2.48% of its population. It also had the twenty-fifth most Peruvians in the US, at 2.01% (tied with Carteret, New Jersey,) while it had the tenth highest percentage of Venezuelan residents in the US, at 1.47% of the population. As a result of the city's large French community, the French American School of Miami is located in Kendall. It is the only French American school in the southern United States.