Information about La Gorce Palace Miami Beach
With new entertainment and shops being developed in the area - Miami Beach and South Beach neighborhoods, La Gorce Palace Miami Beach promises to be the place to be either as your primary residence or for second home. The La Gorce Palace Miami Beach condo located in heart of Miami's South Beach district will offer buyers and investors a residential opportunity with luxurious amenities. La Gorce Palace Miami Beach condo is located at 6301 Collins Ave just steps from the well-renowned Miami Beach. The building features condo floor plans with 1 to 3 bedroom residences and penthouses. La Gorce Palace Miami Beach units range from approximately 940 to 1,700 square feet spanning over 8 different floor plans.
La Gorce Palace Miami Beach - Building Amenities
Private beach entrance
Spectacular two-story lobby
24-hour Security
Concierge
Covered and assigned parking
Gym
Aerobics room
Steam room
Lockers
Social room including cards/entertainment center with bar, widescreen TV and billiards table
Spacious outdoor patio deck with ocean side pool and whirlpool
La Gorce Palace Miami Beach - Residence Features
9-foot ceilings
Double-door entryways and foyers
Expansive floor plans
European-style kitchens
Custom-built cabinetry
Glass rotunda in living area
Granite countertops
Marble bathroom floors
Roman tubs with a whirlpool in master bath
La Gorce Palace Miami Beach - Lifestyle
Since the 1900s, Miami Beach has been famous for year round sun and fun. A vacation resort for the snow birds. Miami Beach is more than just sandy beaches and sparkling ocean. It is a cosmopolitan city which is home to numerous world-class restaurants, modeling, oceanfront condos, film and recording industries and pulsating nightlife. As the nations largest historic district, it boasts first rate cultural venues and an international mix of residents and visitors. World famous Ocean Drive or now referred to as Deco drive, is one of the busiest areas in Miami Beach. Deco Drive runs north-south, paralleling the beach, from 15th Street south to South Pointe Drive. Deco Drive is one of the most popular spots in 'South Beach'. It is famous for beautifully restored Art Deco Hotels, trendy cafes and nightclubs, Oceanfront Real Estate, and of course, "The Beach".
Lincoln Road, once known as one of the hottest shopping streets in the country, and known today as the cultural center of South Florida, is experiencing a retail rebirth. Lincoln Road is home to a 7 block pedestrian mall on a street stretching from the beach and Atlantic Ocean to Biscayne Bay. There are approximately 400 businesses within the commercial area. Miami Beach Condo real estate has been refined from the past typical low rise Miami Beach Condo properties to spectacular high-rise condos starting in the $300,000 price range to over 5 million dollar mark.
The South Pointe drive area has a complete facelift from the developers of The Related Group. Their condo developments include: The Murano Grande at Portofino, The Murano at Portofino, and Icon. Other real estate properties on South Beach include The Yacht Club at Portofino, The Continuum, The Cosmopolitan Towers and The Waverly at South Beach.
La Gorce Palace Miami Beach - Condo Floor Plans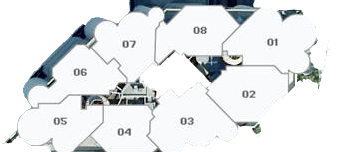 Location for La Gorce Palace Miami Beach

View La Gorce Palace Miami Beach in a larger map
La Gorce Palace Miami Beach Condo Association
Management Office
6301 Collins Avenue. Miami Beach, FL 33139
(305) 867-1665
Miami Beach Condo Market
Miami Beach has always been one of the most dazzling destinations on the East coast. Sunny skies, gorgeous beaches and glamorous ocean resorts have drawn millions of tourists here year round. Since the condominium concept became established as a carefree, luxurious lifestyle, condos in Miami Beach have been rising everywhere. In the last several years, high-rise residences are selling right off the architectural drawing boards. The signal to buy Miami Beach condos started with low interest rates.
CLICK HERE TO SEE SOUTH POINTE CONDOS ONLY
Secondly, foreign buyers and "baby boomers" are yearning for a relaxed, more comfortable way of life. Blue skies and warm weather year round make Miami Beach a paradise on earth. All the stylish new real estate makes the picture complete. The scenery has even caught the attention of young people, who are buying Miami Beach condos up and down the beaches. The demand for Miami Beach condos has stirred real estate developers to be more ingenious than ever. From South Beach to Sunny Isles to Aventura, luxury sky condos have been completed and more are under construction and available at pre-construction prices. Top architects have designed ultra-luxury condos in every architectural style, from modern to more traditional with ocean views and lavish amenities. Miami Beach is going through an incredible transformation.