Information about Ten Aragon Condo Coral Gables
Ten Aragon delivers contemporary style and smart value without forgetting the graceful Mediterranean character of the Gables. At Ten Aragon, quality of life is key. Exquisite one-two-three bedroom floor plans accentuate the flow of today's live/work/entertain lifestyle. From the reception, to the residences, and throughout the building's amenities, careful design and attention to detail made certain that our features enhance your daily experience.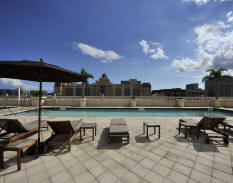 Ten Aragon Condo Coral Gables, located in the historic community of Coral Gables, Florida was purchased for several specific reasons. The mixed-use property has residential, commercial, retail, and office and garage space all in one facility on the historic "Miracle Mile". Upscale and quietly elegant, "The Gables" has the enduring reputation as "the City Beautiful". See all condos for sale or rent lease. Ten Aragon has 184 apartments, most of which have unobstructed views of downtown Miami, Biscayne Bay and South Coral Gables. The property is an 8 month old, 511,701 square foot structure with 15 stories on 1.99 urban acres along the Miracle Mile in Coral Gables Florida. The property consists of a 5 story base and 10 story residential tower. There are 184 condo units that are to be converted to condominiums, 65,000 square feet of commercial, retail and office space and 615 parking garage spaces. The residential tower includes 1 bedroom/1 bath, 2 bedroom/2 bath, and 3 bedroom/2 bath apartments. Amenities include an outdoor swimming pool and spa, a fitness center and a business center. Ten Aragon closed on December 23, 2004 as a joint venture between Prospect Capital Group and the Robert Martin Company.

Ten Aragon Condominium Building Features
- Enclosed and secure covered parking with additional spaces
- Uncommonly impressive common areas created by Charles Allem
- Pool and lounging terrace with spectacular views of Coral Gables
- Wired for hi-speed internet capability and satellite television service
- Electronic key and card access to all floors and entryways
- Private terraces, balconies and/or Juliet balconies
- Secure electronic E-Bolt lock system
- Fully equipped fitness center with men's and women's locker rooms
- Fully equipped, computerized business center with conference room
- Array of retail and restaurants on property
Ten Aragon Residence Features
- Nine and a half to ten foot ceiling heights
- Impact resistant sliding glass doors
- Spacious walk-in closets
- Individually controlled air conditioning and heating
- Smoke detectors and sprinklers
- Double brushed stainless steel under mount sinks with designer faucet in kitchen
- Breakfast bar in select unit styles
- Plush wall to wall or sisal carpeting in living and bedrooms
- Halogen lighting in kitchen and dining areas
Ten Aragon Residences Available Upgrades
- Elegant and contemporary designer selected appointments with custom cabinetry and finishes
- Natural polished stone kitchen countertops
- Premium energy efficient stainless steel appliances
- Range oven with built-in microwave and hood/fan unit
- Side by side refrigerator/freezer with automatic icemaker
- Full or stacked washer/dryer in each residence
- Custom contemporary furniture quality bathroom vanities and soaking tubs
- Designer plumbing fixtures, faucets and accessories
- Elegant European style marble entry foyer in either crema marfil or carerra marble
- Hardwood or natural stone flooring available throughout residence

About 10 Aragon Condo Designer
The Aragon Style.
The uncommonly rich textures and deep colors of the residences at Ten Aragon have been imagined and defined by acclaimed designer, Charles Allem. Featured in many leading design publications, Allem has been named to the prestigious AD 100 - Architectural Digest's annual list of the world's most gifted interior designers. Allem's clientele are among America's wealthiest, spending millions on a typical design project. With Ten Aragon, Allem has fused the building's classic Coral Gables architecture with a chic urban palette of fabulous finishes at home in any of the world's most luxurious residences.
10 Aragon Condo Location
Ten Aragon Coral Gables, located at 10 Aragon Avenue, is ideally situated within minutes of Downtown Coral Gables. Renowned as Miami's premier private neighborhood, Coral Gables is a city full of thriving businesses, excellent schools, restaurants, and galleries. Whether it's taking in the shops and bistros of historic Miracle Mile, taking in a round of golf, or indulging in local treasures such as The Venetian Pool, Ten Aragon makes the pleasures of Coral Gables yours.
10 Aragon Residences
Ten Aragon Coral Gables is an elegant, upscale boutique condominium comprised of 32 spacious units with a mix of two bedroom, two bedroom plus den and three bedroom options. Residences will feature gourmet kitchens with quartz counter tops, ItalKraft cabinetry, Bosch and Whirlpool appliances. Each unit comes with spacious 9-foot deep balconies. Ten Aragon Coral Gables is a pet friendly building and the "new" way to call Coral Gables home.
Location to Ten Aragon Condo Coral Gables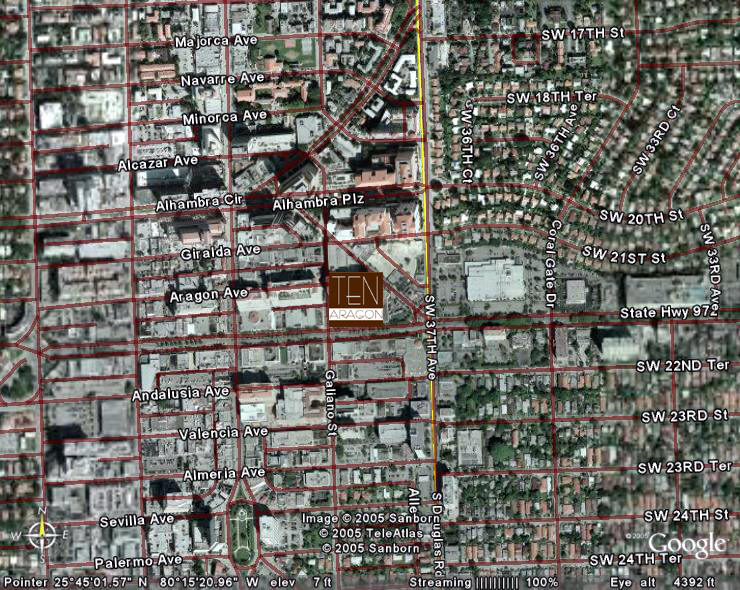 Coral Gables-City Beautiful
Visionary founder George Merrick planned this jewel of a city in the 1920s on a grand scale as a tribute to Florida's rich Spanish history. Today the city is a visual feast, evoking Mediterranean allure with imposing stone archways, ornate plazas and reflecting pools. Homes and monumental public buildings fashioned in Mediterranean Revival architectural style, blend coral rock, stucco finishes and keystone ornamentation. Barrel tile roofs, worked in a palette of rich tones, terra cotta, ocher and sienna, strike a dramatic note in neighborhoods of winding roadways shaded by ancient banyan and oak trees. Upscale and quietly elegant, "The Gables" carefully guards its enduring reputation as "The City Beautiful".

Experience the best in fashion, dining and nightlife just steps away from your home in the heart of historic, downtown Coral Gables. Find convenient shopping and dining along the landmark Miracle Mile. Walk to work or play in downtown Coral Gables, its proximity measured in minutes to Miami International Airport, University of Miami, Port of Miami, Downtown Miami, American Airlines Arena, South Beach, and Coconut Grove. Impressive office buildings and multinational corporate headquarters complete "The Gables" panache.

Savor the magic of The Mile's pedestrian friendly boulevard and surrounding streets against a backdrop of keystone fountains and tropical landscaping. Here is a world of picturesque sidewalk cafes, boutique shopping, gourmet dining from sushi to steak, theatre, bookstores, coffee shops, nightclubs, high style and high design… take a leisurely stroll or jazz it up!

Homeowners at Ten Aragon enjoy the convenience and ease of access to an array of retail and other businesses on property located on the Miracle Mile side of the residence.
Coral Gables – Ten Aragon and 55 Miracle Mile, a 15-story, Class AA mixed-use building located at 55 Miracle Mile in Coral Gables, Florida was sold to Prospect Aragon, a joint venture between Prospect Capital and The Robert Martin Companies, for $84,500,000. The advisors on the sale were Robert Given, Vice President and Jay H. Massirman, Executive Vice President of CB Richard Ellis. The brokerage team acted as exclusive advisors to the seller, Starwood Urban Investments, LLC. Ten Aragon a 15-story mixed-use building consists of office, retail and residential units. Ten Aragon represents the residential component of the Property and 55 Miracle Mile represents the office and retail component of the Property. Ten Aragon consists of 184 residential units totaling 201,592 square feet. 55 Miracle Mile consists of 40,590 square feet of retail space, and 25,764 square feet of office space. Notable retail tenants include, Tarpon Bend, City Cellars, Max's Grill and Advanced Aesthetics. "Located at the entrance to Coral Gables, Ten Aragon promises to be a model for future development in South Florida and the nation," stated Robert Given, Vice President, CB Richard Ellis. "In a supply constrained market with growing demand and upscale demographics, Ten Aragon is an irreplaceable urban asset."
"Ten Aragon is the third property in Florida and the first in Dade County that our Joint Venture has purchased," said Tim Jones, Managing Director of Robert Martin Company. "We believe Ten Aragon is an extraordinary asset in an excellent location and that there will be high demand for both the residential and commercial components of Ten Aragon"
CB Richard Ellis Press Release
January 4, 2005
"The outstanding location, great views, proximity to trendy shopping, entertainment and business districts, and affluent resident base makes Ten Aragon an ideal opportunity for immediate condominium conversion," stated Jay Massirman, Executive Vice President, CB Richard Ellis. "The timing of the asset sale was ideal. Lenders continue to be attracted to these product lines because of the absence of construction risk and substantial demand in the residential marketplace throughout South Florida. Yearto- date, the CB Richard Ellis South Florida Multifamily Group, has closed or placed under contract over $2.7 billion in multi-family transactions. This is more than double our activity from 2003. Approximately 70% of our year-to-date transaction represents condo conversion properties. We anticipate the level of investor demand to remain strong throughout 2005." Ten Aragon offers an outstanding location, situated with frontage along Miracle Mile and Aragon
Avenue in the heart of Coral Gables. Ten Aragon was built in 2004; Ten Aragon was fully designed to function as a multiuse project seamlessly integrating residential, office, retail and parking while fitting within the urban fabric of the area. Ten Aragon offers exceptional institutional quality finishes and improvements such as 9-foot ceilings, custom cabinetry, glass curtain walls, decorator lobbies and other elegant items.
One of Starwood's most significant downtown efforts is the development of 55 Miracle Mile and Ten Aragon in downtown Coral Gables. Ten Aragon, a Mediterranean-style, mixed-use development will consist of a four-story retail, restaurant and office complex known as 55 Miracle Mile and a 15-story retail, parking and luxury residential rental building, which will be known as Ten Aragon.
Ten Aragon, located on Aragon Avenue, will consist of 184 luxury rental apartments on 10 floors in addition to ground-floor retail and restaurants and four levels of parking. Located on Miracle Mile, 55 Miracle Mile will include 27,000 square feet of office space. The ground floors of both structures will have a combined total of 39,400 square feet of retail and restaurant space. The office and retail component of the project is slated for completion in late fall 2003; the residential units will be completed in summer 2004.
Ten Aragon Project Named Greatest Condominium In 2005 by Coral Gables Gazette
Ten Aragon, a mixed use project owned by The Robert Martin Company of Elmsford, NY and Prospect Capital Group of Connecticut, has been named the Greatest Condominium in the Coral Gables Gazette's Gables Greatest 2005 issue.
(PRWEB) -- Ten Aragon, a mixed use project owned by The Robert Martin Company of Elmsford, NY and Prospect Capital Group of Connecticut, has been named the Greatest Condominium in the Coral Gables Gazette's Gables Greatest 2005 issue. "We are extremely proud of this recognition. We consider this to be a trophy asset and we're thrilled that others view it in a similar regard," said Greg Berger, General Partner/Principal at Robert Martin Company. The Coral Gables Gazette's annual Gables Greatest issue cited Ten Aragon as a "beautiful Mediterranean style building with sleek, modern interiors, featuring private balconies, great views of downtown Miami, high ceilings, sliding glass doors, walk-in closets, and other luxury amenities." The paper also singled out the "impressive common areas" created by "acclaimed interior designer Charles Allem." Ten Aragon, located on the historic community's "Miracle Mile," is a mixed-use property with upscale residential, commercial, retail, and office space. The amenities include a spa, a fitness center, a business center, and an outdoor swimming pool with hot tub. The retail tenant roster includes three prominent restaurants, Tarpon Bend, Max's Grill and City Cellars.